Health 2.0.: Health Sector Innovation and Social Networks
Equipo editorial
—
last modified
30/09/2009 14:34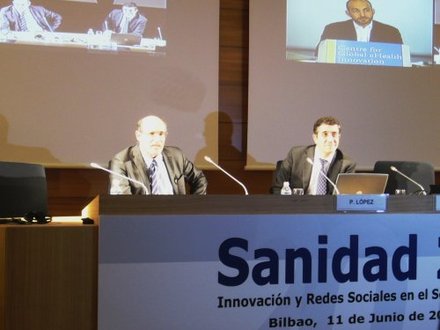 Patxi López, Rafael Bengoa y Alejandro Jadad
Web 2.0 will mean a change in the health field. This day aims to explore technical and recognize those patterns and trends that will influence the evolution of the health system through the development of social networks linked via the Internet.
De ahí el nombre de Sanidad 2.0, entendida como un nuevo escenario en el que Internet permite la creación de comunidades de profesionales y de pacientes; la generación de nuevos entornos de interacción entre profesionales sanitarios y pacientes; herramientas innovadoras en Formación de profesionales sanitarios, investigación, etc.

En definitiva, un nuevo marco de generación y difusión de conocimiento lleno de oportunidades para la innovación social y empresarial orientada a la mejora de la salud y de la calidad de vida. También, un recorrido incierto y no exento de riesgos y obstáculos que conviene anticipar.

A lo largo de la jornada, se enmarcará Sanidad 2.0 en el contexto de la Administración en Red, se analizarán las tendencias existentes y se mostrarán aplicaciones en el sector salud como Wikis, Blogs, comunidades, espacios virtuales, con especial atención a aquellas orientadas al campo de las enfermedades crónicas.

SPAIN