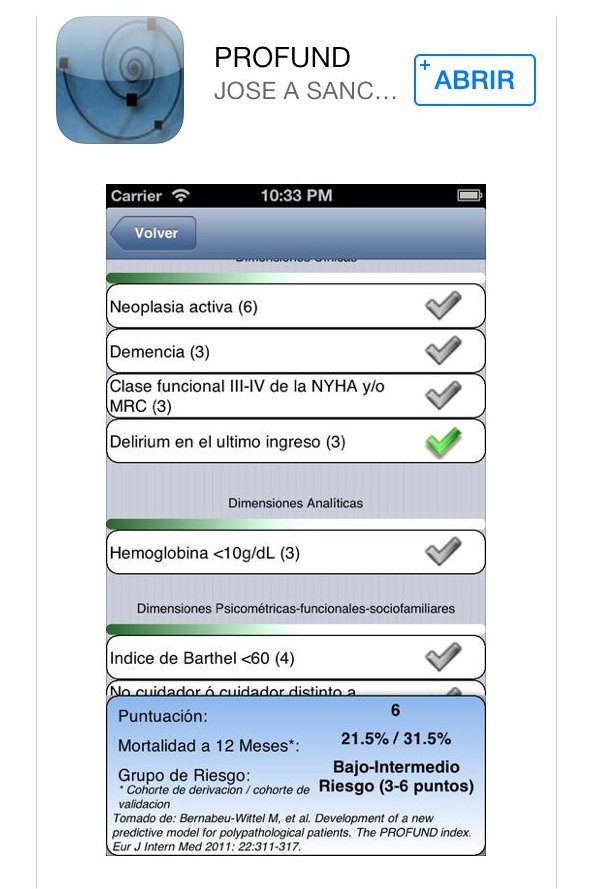 Aplicación para cálculo del riesgo de muerte y de deterioro funcional en pacientes pluripatológicos y/o crónicos.
Goals Detection:

Shows new evidence on the importance of early detection, including guidelines of effective practices

Goals Treatment:

Promotes electronic health information systems to improve the quality of care

CalculaPROFUND.exe
Herramienta para calcular el riesgo de fallecer al año de pluripatología y el riesgo de deterioro funcional, permiten aproximar a 12 meses un pronóstico de mortalidad y capacidad funcional para aquilatar mejor las necesidades y el modo de atención.
Esta aplicación se ha desarrollado como ejecutable para cualquier ordenador, pero además como aplicación para dispositivos móviles Apple, tanto iphone como ipad.

1/01/2010

Progress

SPAIN

Andalucía

Sevilla

Avda. Manuel Siurot s/n

41013
Practices Map
:
Comments
javier de Castro Simon ·
09/10/2013 14:33
Buenos dias,
En el Area Sanitaria de la Axarquia estamos trabajando para mejorar la atencion del grupo de cronicos.
De todos los modelos de estratificacion de la poblacion de cronicos, creemos que el de mas facil manejo para nuestros profesionales es el Profund.
Para conocer mejor su aplicacion, agradeceria me hiciesen llegar el archivo: CalculaPROFUND.exe y si es posible la aplicacion software.
Muchas gracias por su atencion
Javier de Castro (Director UGC Algarrobo)