Comments of Prevention and health promotion
 

Secondary prevention



Secondary prevention is concerned with people with established disease, although usually it is at an early stage. Its aim is to limit the extension of the disease and the development of complications. For it to be successful there must be an early stage in the disease that can be identified and an effective treatment for preventing its progression.
Screening, using large-scale tests to identify disease in apparently healthy people, is a form of secondary prevention. Screening for cervical cancer is a good example, as it identifies cancer at an early stage and surgery can remove it. Interestingly, there is now a vaccine against the human papilloma virus, the cause of many cases of cervical cancer, which means that cervical cancer can be prevented through primary rather than secondary prevention, although its use remains controversial.
Perhaps there has been a substantial increase in the demand for screening to ensure the early detection of certain disease conditions because of the well-known phrase «prevention is better than cure». It is necessary, however, to establish the cost-benefit profile of these procedures at the populational level in order to determine the cost for each life which is saved.
Rational screening means that many criteria must be met before mass screening can be introduced and these criteria are shown in table 2. The test itself must be sensitive (good at picking up people with the disease) and specific (unlikely to identify, wrongly, people without the disease as having it). Unfortunately, many potential screening tests have low sensitivity and specificity, meaning that they fail to pick up people with the disease (false negatives) and wrongly identify people who do not have a specific disease as having it (false positives).
 Table 2. Requirements for an effective screening programme
Randomised clinical trials are very useful for determining the effectiveness of screening on the mortality and morbidity of specific conditions in populations, particularly in situations where an intervention has been designed to manage the disease on the basis of screening results. Such trials have been conducted to determine the cost of breast cancer screening and systematic reviews show that screening does reduce mortality, despite many women having biopsies of breast lumps that turn out not to be malignant (26).
The cost per quality-adjusted life year (QALY) is about £5,000 in the UK, which is well below the cut-off point of £20,000 to £30,000 used by the National Institute for Health UK National Health Service. (A quality-adjusted life year is a year of life adjusted for its quality or its value; it is a measurement devised by health economists. A year of perfect health is considered to be equivalent to 1.0 QALY. The value of a year of ill health would be discounted. For example, a year in which a person is bedridden might have a value equivalent to 0.5 QALY (26).
It is crucial for any screening programme which is introduced to have a high level of quality assurance. Otherwise it may not achieve its desired results. For years in Britain, for example, cervical screening was not quality assured. The wrong women were screened, the samples were poorly collected and smear reading was not quality controlled. The result was that, before quality assurance was introduced, cervical screening achieved little (28).
Table 3. UK Criteria for appraising the viability, effectiveness and appropriateness of a screening programme (updated June 2009)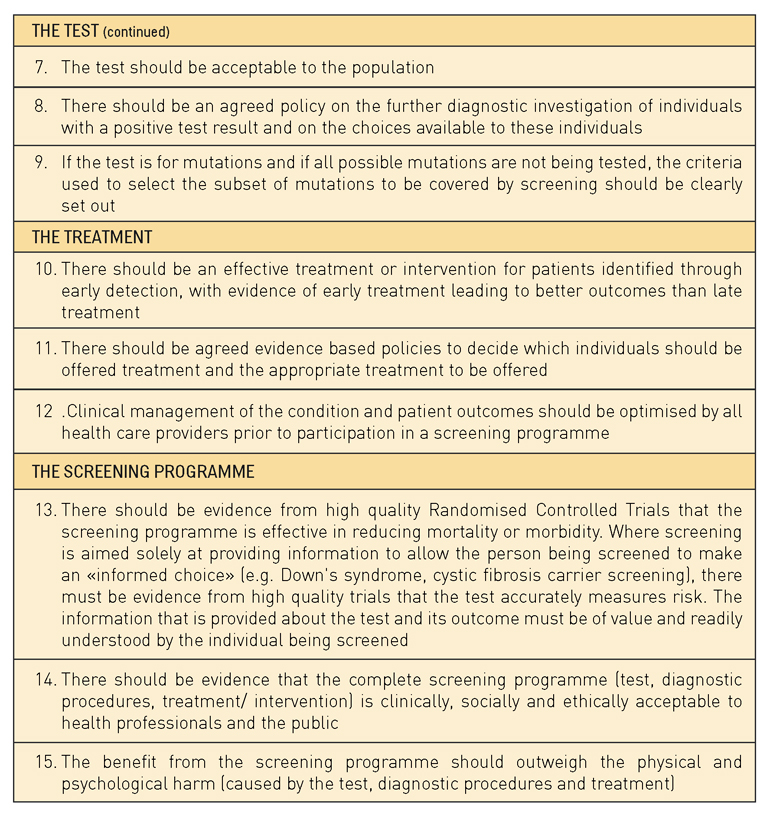 Table 3 shows the criteria used by the UK National Screening Programme to decide which screening programmes to introduce. Screening programmes that have met these criteria include screening for abdominal aortic aneurysm, breast, bowel and cervical cancer, diabetic retinopathy, hypertension and vascular risk. Table 4 shows the programmes which have not met the criteria, often despite popular for them to be introduced.
Table 4. Systematic population screening programmes not recommended in the UK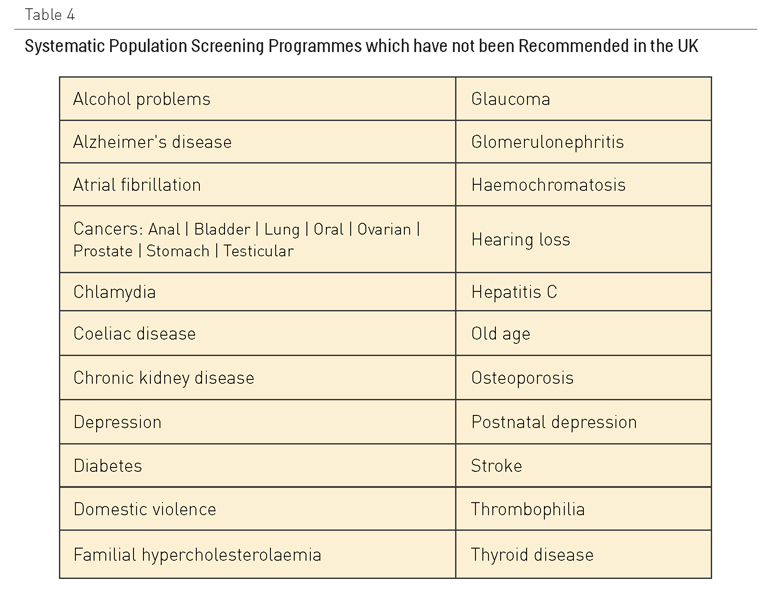 Many disadvantaged populations, for example, people with learning disabilities or chronic mental health problems, are less likely to be screened. This may well be true as well for people with multiple chronic conditions.
Measures to stop people smoking, increase physical activity and improve diet will also be effective as secondary preventive strategies in patients with established cardiovascular disease, but patients also need pharmacological treatments to reduce the chances of recurrence or of complications in the case of diabetes or progression of chronic respiratory disease. Most of these treatments are firmly based on evidence, although there have recently been interesting suggestions from a major trial that tight control of blood sugar in diabetic patients may lead to worse outcomes (29).
Existing comments





0 votes
La introducción de las TIC en atención primaria a acercado los estudios complementarios a la población en general, trabajar en ese sentido seria de mucha ayuda.





0 votes
Sabiendo que la prevencion secundaria es importante un aspecto, por lo menos desde Atención Primaria, es la falta de evaluación de estas medidas, las cuales no tienen un feedback back a los medicos que las realizan para conocer cual es el alcance que tienen.
Otro aspecto importante, que en algunas comunidades se esta solucionando con la historia única, es la falta de relación y comunicación entre los diferentes niveles asistenciales siendo el paciente "el mensajero" de la información y de las medidas que se han tomado.
Visto y analizando los cupos de atención primaria, tanto zonas urbanas como semiurbanas, las rurales se deberían tratar aparte, la aplicación de esta prevencion secundaria desde Atención Primaria es mayor en población mayor que en los jóvenes por lo que nos debemos plantear si se aplican a todos los pacientes.





0 votes
El uso y número de pruebas diagnósticas de reconocimiento preventivo a personas aparentemente sanas se está extendiendo a medida que avanza la investigación. Muchas veces son los mismos pacientes los que se extrañan de tener que realizarse tal o cual prueba, estando aparentemente bien. El concepto de "preventivo" implica sentarse con el enfermo y/o explicarle mediante información escrita el porqué de la prueba.





0 votes
Disponer de pruebas de detección sensibles y específicas, tendría un gran impacto en la identificación de personas susceptibles de desarrollar enfermedad. Una guía que dispusiera de la idoneidad de pruebas de detección como herramienta en las consultas de Atención Primaria, podría mejorar el diagnóstico de manera más temprana.
Creo que sí que es cierto que quienes son/somos diferentes podemos estar fuera del uso de estas herramientas o incluso tener una atención en la misma patología con menor intensidad
Add a comment
Please log in to post your comment